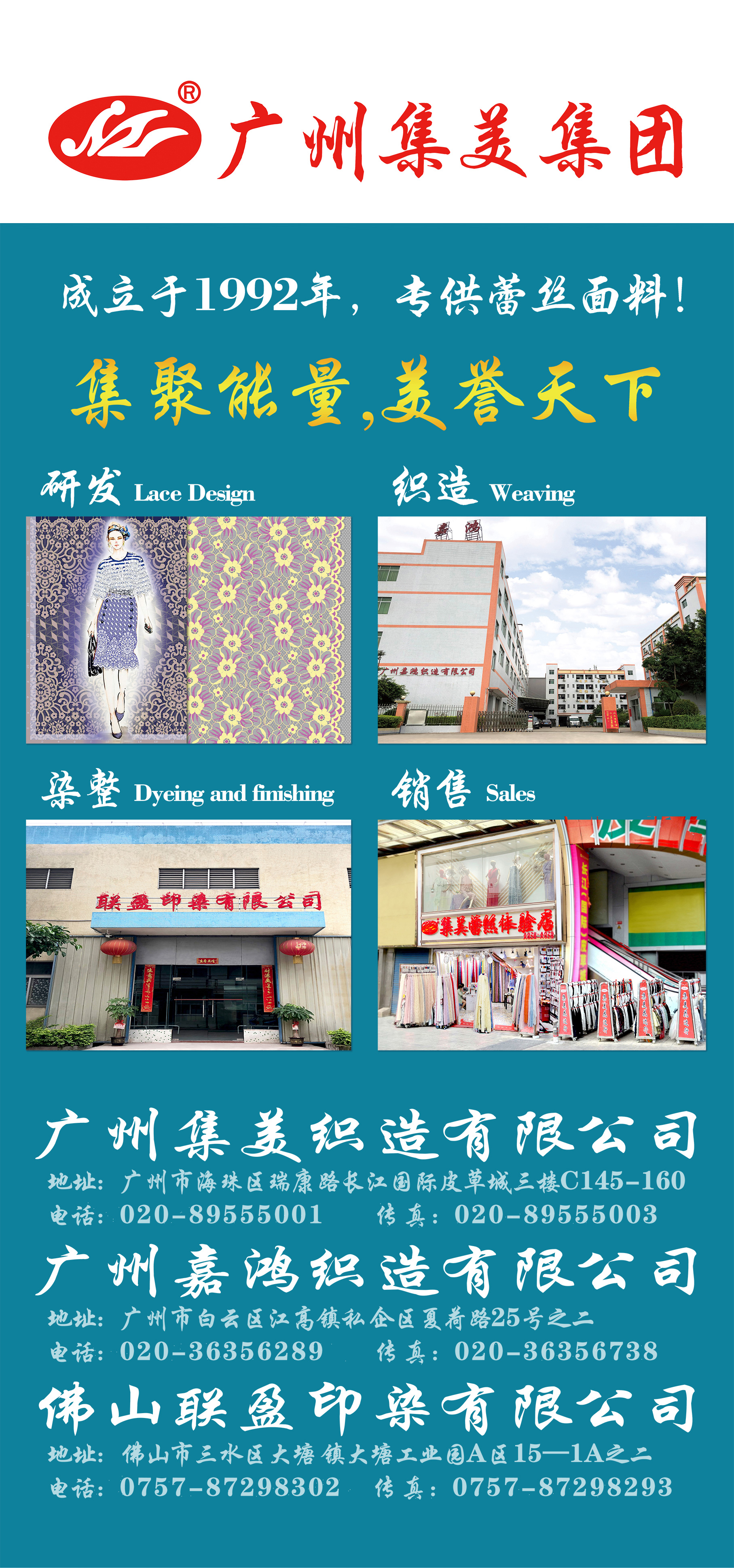 广州集美织造有限公司创办于1992年,是一家集于设计、生产、销售一体的多元化经营的企业。公司座落于世界闻名的广州中大布匹市场 —— 珠江国际纺织城,在全国各地拥有多家销售网点;工厂位于广州市白云区江高镇私企区夏荷路25号之二,配套德国卡尔•迈耶经编机多台,拥有目前先进的技术和设备。
Guangzhou Jimei Weaving Co., Ltd. founded in 1992,
is a diversified enterprise integrating design, production and marketing into a whole. Located in Zhujiang Internationale Textile City the world famous Guangzhou Zhongda Cloth Market, the company has a number of sales outlets around China. Its factory is located at No. 25-2, Xiahe Road, Private Enterprise Area. Jianggao Town, Baiyun District, Guangzhou and equipped with many brand-new Carl Mayer tricot machines and has currently state-of-the-art technologies and equipment.
蕾丝面料是我集团公司的主打产品,因面料质地轻薄而通透,典有优雅而神秘的艺术效果,除被广泛的运用于女性的服装服饰,其用途也扩展到了家居装潢及饰物等各个领域;公司拥有的蕾丝设备有调整电脑花边机、电脑压纱板、电脑贾卡花边机等,设备新颖高端齐全,蕾丝质量上乘,花型精美,品种繁多,公司所属的蕾丝提花厂,集生产、产品研发、经营服务为一体,直接服务终端客户,减少中间环节,以厂家直销的优势,增强企业产品竞争力。以创新的经营理念和规模的优势,实现着为客户、员工、股东、社会创造持续增长价值使命。
集美蕾丝让女人更加美丽、更添优雅、更显女人味!
Lace fabric is the main product of our corporation, due to the quality of light weight and soft material, it has a art effect of elegant and mysterious. In addition to widely use on women`s clothing accessories, it is also extended to various fields such as home decoration and decorations. The company has advanced lace equipment such as high-speed computer lace machines, computer pressure yarn machines, computer jacquard lace machines. Our lace Company is the subsidiary corporation of our group which is the professional production enterprises integrated of production and processing and sales, we can service directly to the end customer, reduce the intermediate links, has the advantage of direct manufacturer, so that we can enhance enterprise product competitiveness. With innovative business ideas and scale advantages, we accomplish the mission of creating sustained growth for cuslomers, employees, shareholders and the society.
The lace of Jimei makes women feel more beautiful more elegant, and show more femininity !